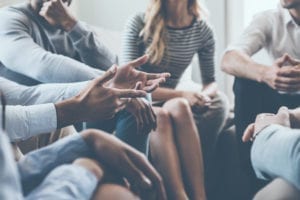 The Ross Center is offering a 10-week group therapy program for those struggling with OCD and addiction beginning on Thursday, November 1, from 7-8:30pm.  It is estimated that as many as 25% of individuals who meet the criteria for OCD also meet the criteria for a Substance Use Disorder (SUD). Some common methods to treat substance can unintentionally exacerbate OCD symptoms.  This group will be led by Gwilym Roddick, LCSW. Gwilym specializes in treating substance use disorders and other addictive behaviors and has extensive training and experience in treating these co-occuring issues.
The group has been designed using evidence-based treatment including Cognitive Behavioral Therapy (CBT) and Acceptance and Commitment Therapy (ACT). Gwilym will provide psychoeducation to participants in a supportive group environment, teaching skills and strategies to emotionally regulate and minimize the interpretation of thoughts. Participants will gain an understanding of how these issues influence each other, and learn strategies that directly reduce addictive behaviors.
For more information please go to our OCD and Addiction Group Therapy page. If you any questions or would like to register please call 212-337-0600 or email NYinfo@rosscenter.com.