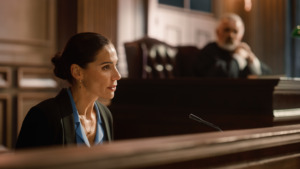 Unbiased Professional Consultation and Testimony
Our forensic psychiatrists and psychologists are able to provide expert consultation, testimony and evaluation in civil, criminal and family legal proceedings. With extensive experience in cases involving both children and adults, our specialists conduct examinations and review cases with the highest level of integrity, sensitivity, and diagnostic skill. Forensic consultation is available remotely for cases throughout the country.
Evidence-Based Opinions for the Legal Profession
Our clinicians all have expertise in both clinical mental health and forensic services, bringing skills and compassion to interviews and evaluations that helps elicit key findings.  We collaborate internally, when appropriate, to provide clients with both a psychological and psychiatric medical perspective. With an objective, evidence-based approach, we offer comprehensive evaluations, impactful reports, and expert witness testimony that illuminates the impact of mental health on issues of competency.
Analytical Skills and Depth of Knowledge
Our team brings a wealth of experience and provides expert guidance to stakeholders from all sides of the bar, including:
Individuals and Plaintiffs
Attorneys
Administrative Agencies
Health Agencies and Insurance Companies
Federal and State Government Agencies
Employers
Areas of Forensic Services
Civil:
Medical or Psychiatric Malpractice
Testamentary Capacity and Undue Influence
Mental and Psychiatric Disability Claims
Long and Short Term Disability Insurance Claims (includes Personal Injury and Inability to Work)
Fitness for Duty Evaluations
Return to Work Evaluations
Capacity to Contract or to Make Medical Treatment Decisions
Intentional Infliction of Emotional Distress
Guardianship and Conservatorship Evaluations
Civil Commitment
Dangerousness Assessments

Suicide Risk Assessment
Violence Risk Assessment
Risk Assessment for Release from Incarceration

VA Discharge Upgrade Evaluations and Benefits Claims
Cancellation of Deportation Application
Evaluation of "Extreme Hardship" to a U.S. Relative for Immigration Purposes
Evaluation for Asylum Eligibility
Peer Reviewed Forensic Consultation
Children and Family Law:
Child Custody Evaluations
Parenting Capacity Evaluations
Termination or Modification of Parental Rights
Criminal:
Competency to Stand Trial
State of Mind Evaluations (Insanity Defense and Extreme Emotional Disturbance)
Pre-sentencing Evaluations (for purposes of mitigation)
Competency to Waive Miranda rights
Competency to Understand the Proceedings of a Plea Bargain
Psychiatrist

Washington, D.C. & Northern Virginia