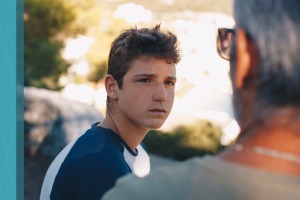 Treatment that gets results
Dialectical Behavioral Therapy (DBT) is based on the concepts of Cognitive Behavioral Therapy and created for individuals with extreme emotions and sometimes harmful behaviors. The Ross Center offers a comprehensive DBT program for teens ages 14-17, with a team of DBT-trained clinicians working to address complex problems including emotional regulation issues, unhealthy relationships and boundaries, self-harm and suicidal ideation. Participants learn skills to better manage their feelings, thoughts and behaviors, and experience hope and optimism as they learn to function more effectively in day-to-day activities.
The program provides a balance of concrete strategies that lead to positive changes with extensive support and compassion for the client and your family. If you feel that you've run out of options, the comprehensive DBT program at The Ross Center can be transformative and provide the structure and therapeutic guidance to truly impact and improve mental health.
We are also offering a virtual DBT Skills Groups for Adults. This 6-month DBT Skills training is a standalone option for individuals interested in learning DBT skills and is not part of a comprehensive program.
Effective Treatment for a Variety of Conditions
Extensive research supports DBT efficacy in treating suicidal and self-harming behaviors, anxiety, depression, substance abuse, borderline personality disorder and trauma. Many clients have been to multiple therapists without seeing significant progress, and parents are often at their wits end. The comprehensive DBT program at The Ross Center can effectively treat a wide range of disorders, including individuals who experience:
Significant difficulty regulating emotions, thoughts and behaviors
Trouble navigating relationships
Uncontrollable Anger
Chronic suicidal thoughts
Cutting and other types of self-harm
Risky behaviors, including sexual promiscuity
Impulsive behavior
Substance abuse
Extensive moodiness
Food and eating issues
Depression
Severe anxiety
Out of control behavior
Struggles with trauma and PTSD
Structured Program
We offer a classic, comprehensive DBT program involving a 4-pronged system that is delivered over a period of 6 months and includes:
Individual DBT therapy with a dedicated therapist
Weekly DBT skills training group for the client and their parents
Skills coaching and 24 hour phone consultation
DBT Therapist team approach
This program involves a serious family commitment to adhere to a 6 month program. Participants are required to commit to the entire 24-week program, but can join at the beginning of a new cycle as long as all 4 modules are completed.
The 4 skill-building modules of DBT consist of:
Mindfulness,
Emotion Regulation
Distress Tolerance
Interpersonal Effectiveness.
Expected Outcomes
Many clients who participate in a DBT program describe it as 'life changing'. Although DBT is a lot of hard work, it has also proven to be effective for many types of complicated mental health problems. Those who complete the program often exhibit significant progress and change, able to return to school, work, and regular activities armed with a new set of life skills. Family life becomes calmer and family members have the tools to live in greater harmony. Participants gain critical skills for self-management resulting in improved relationships, decision-making and confidence.
To learn more about DBT contact us at 703-687-6610 or  vainfo@rosscenter.com.
DBT Trained Clinicians at The Ross Center:
Psychologist

Washington, D.C. & Northern Virginia
Groups And Events relating to Dialectical Behavior Therapy
Skills Class

Learn new skills to replace thoughts, emotions and behaviors that are interfering with your day-to-day life and relationships

Group Therapy

Program includes weekly sessions of individual therapy, family group therapy, 24 hour telephone support and a dedicated clinical team.